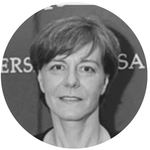 Alessandra Guidi graduated in Veterinary Medicine and specialized in "animal origin food inspection" at the University of Pisa. She is team Leader at UNIPI of the Lab of biotechnology applied to food inspection; her research focuses on developments of analytical methods able to reveal hormone treatments, fish Species identification (DNA techniques) and Asian organization of food safety systems.
She teaches in the long-cycle degree in Veterinary Medicine, in the Ph.D School of Veterinary Science, in the Specialization School of Animal Origin Food Inspection. She has been visiting professor at the National Institute of Health (Bethesda, Washington), the Chinese Academy for Agricultural Sciences (Beijing), and Guangxi and Qinghai Universities (PRC). She is Prorector for Internationalization at the University of Pisa; Honorary Professor at Guangxi University; Member of the board of directors of Confucio Institute, Pisa.
President of the international Ph.D course "Inspective area and Sanitary Concerns in Animal Production in Exchanges between the European Union and the People's Republic of China", activated within the national program of cultural exchanges with emerging Countries (China). She is also Director of the Sino-Italian Center for Food Safety, Cooperation between the Tuscany Region and Guangxi Province.
She is a coordinator of international teaching programs on food safety for managers of the Chinese Food and Drug Administration and the Entry-Exit Inspection Bureau of Guangxi Autonomous Region (PCR). She is the author of more than 100 articles published in national and international peer reviewed journals, in national and international congress proceedings and of chapters in national and international textbooks.